Last updated: October 18, 2023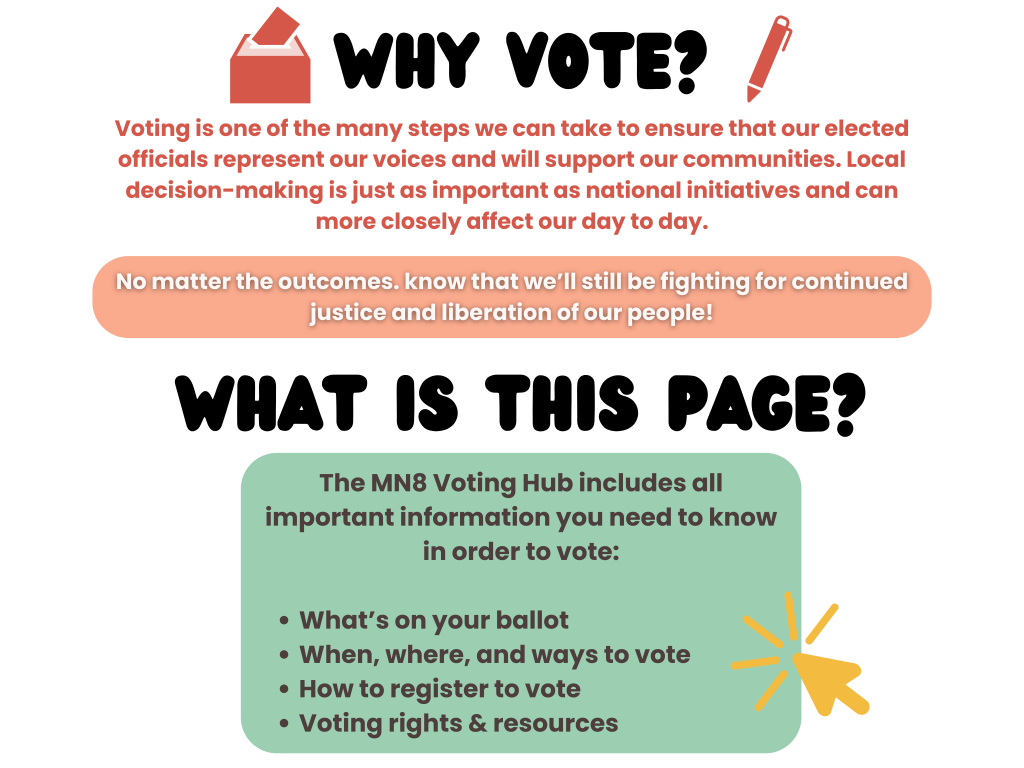 Register for Election Day starts October 17th, 2023 You can still register the day of election day but can save time and trouble if you register beforehand

Election Day – November 7th, 2023

Unless you're voting early or mailing in your vote, the other way to vote is on Election Day. On this day, voters will go to their polling place to cast their ballot
This general election season in Minnesota will have these positions available to vote on. Voters may have one or more of these races on their ballot:

School Board Members – Responsible for developing the annual school system budget, setting school policies, and hiring and evaluating the superintendent

City Council Members – The City Council Members work together with the Mayor to pass local laws, policies, and the city's annual budget

Local ballot questions – These questions will differ depending on your county and district but will most likely be related to taxing and public financing

Find who is specifically on your ballot by using the Poll Place Finder, inputting your information, and scroll down to click "List of Candidates" which will also include what positions they're running
*Disclaimer for folks who may be can't vote and would get in legal trouble trying to vote based on citizenship status

Register to Vote Online and Check Your Registration Status

Things to bring when you vote:

In case issues arise or you aren't registered to vote before you arrive at your polling place, make sure to bring identification and proof of residency.
Before you register to vote, please check if you are able to cast a ballot. Make sure to read thoroughly as there can be harsh consequences for some situations.

To vote you must be:

A U.S. citizen
At least 18 years old on Election Day
A resident of Minnesota for 20 days
Not currently incarcerated for a felony conviction (more info)
You can vote while under guardianship unless a judge specifically has revoked your right to vote.
You cannot vote if a court has ruled that you are legally incompetent.

*You can pre-register to vote at 16 or 17 years old. You must be at least 18 years old to vote.

What can you do if you do not meet the eligibility requirements?

Although you aren't able to cast a ballot, it doesn't mean you aren't able to influence election outcomes! Make sure to keep your family, friends, and circle of people informed about voting. You can share resources, important information about upcoming elections, support community members by reminding them of their voting rights. Community voices are more than just a ballot!
NEED HELP IN A DIFFERENT LANGUAGE?
APIA Vote multilingual voter hotline: Call 1-888-API-VOTE
IMPORTANT NOTES
In the state of MN, Effective June 1st 2023, individuals convicted of a felony will have their right to vote restored upon completion of incarceration. Individuals on parole will also have the right to vote.
Please note that you NEED to have citizenship in order to vote! Noncitizens can face detrimental and harsh consequences if they even register to vote!